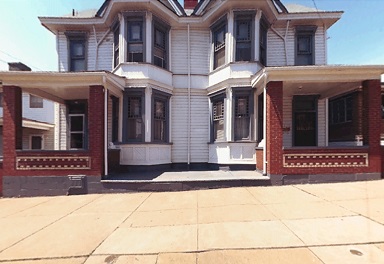 ***Please read below for helpful information before proceeding to the tour. This page will remain open for your reference and the interactive tour will start in a new tab or window.
We recommend viewing the virtual tour on a computer using either the Chrome or Firefox browsers for the best experience. It may be viewed on a mobile device, but some functionality may not be available on all devices. If using a slower internet connection and/or viewing on a mobile device, please allow several seconds for scenes, audio, and videos to load.
To navigate, press and continue holding your left mouse button (or your finger on a touchscreen) and move slightly left or right to rotate around each scene for a 360° horizontal view or use the left and right arrow buttons. After viewing each scene fully, you can move to a new scene by clicking on the moving white  

  or black  

  arrows in the scene.
Small pop-up videos can be played by clicking on the video icons  

  scattered throughout the tour. To stop a video, click anywhere. The length and name of each video can be previewed by hovering over the icon with your mouse (not available on mobile devices). Likewise, audio files can be played by clicking on the audio icons  

  and can be stopped by clicking on the icon again.
Make sure to visit both sides of the duplex house. The left door (when viewed from the street) is Tony's side. The right is his mother's side where George Romero's Martin was filmed. There is a Home button  

  in the control bar at the bottom of the screen that will return you to the front of the house at any time. There are a total of 18 scenes in the tour, 38 videos, and 6 audio clips.
You can double-click to enlarge the tour to a fullscreen view and double-click again to return to regular size. You can also hide the control bar at the bottom of the page in order to see the full image by clicking the last icon  

  in the bar. You can click again on the remaining icon to show the control bar again.
This virtual tour was created in 2017 by Braddock Films from photos, video, and audio that was captured for an installation at the Pittsburgh Center for the Arts in 1998 when Tony Buba was named Artist of the Year. We would like to thank the PCA and Vicky A. Clark, Curator, for the 1998 installation materials and CD-ROM that inspired this work.
Click here to proceed to the tour.